Operating truck for Bridge Detection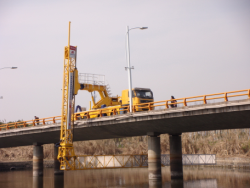 Model: HZZ5320JQJ22
Brand Name: CHINA JINGGONG
Function: Operating bridge
Materials: Imported steel
Type: Lattice Type
Stock Quantity: 1
Produced Year: 2011
FOB Shanghai or Ningbo: USD539000
Payment Terms : L/C,T/T
Product Details

The operating truck for bridge detection, as its name suggests, is designed to help detect the performance and reliability of a bridge.
It is equipped with VOLVO chassis which is well known for its high strength and durability. Some hydraulic parts of the operating truck for bridge detection are acquired from international famous suppliers. Quality components help ensure the reliable performance and long service life of this special vehicle.
The telescopic mechanism, swing mechanism and luffing mechanism of the operating truck create a three-dimensional space. This provides the vehicle with incredible freedom of movement and also enables it to quickly and safely send staff or testing equipment to and location under the bridge.
This operating truck for bridge detection is designed with extendable, hydraulic driven outriggers. This design greatly increases lateral stability and makes sure operators is working at safe conditions. Meanwhile, continuous track type outrigger comes with small pressure stress and as a result, it causes no damage to ground surface. The operation staff under the bridge can control the movement of the crawler directly.
The truck cab is equipped with a control panel which allows operators to monitor the bridge-detection conditions conveniently. In addition, the operating truck for bridge detection comes with emergency power supply which allows it to operate independently without the truck.
Basic parameters for lattice type detection vehicle:
| | |
| --- | --- |
| Model | HZZ5320JQJ22 |
| Drive Type | 8×4 |
| Chassis No. | VOLVO FM400 84R B |
| Exhaustion standard | Euro V Emission Standards |
| Engine Model/HP | D13A400-EC06/400HP |
| G.V.W. | 32000 kg |
| Tare weight | 31870 kg |
| Overall dimensions | 12420×2500×4000 mm |
| Tyre | 295/80R22.5 |
| Number of tyre | 18 |
| Tread front/rear | 2035/1834mm |
| Wheelbase | 1995+4405+1370mm |
| Max. Speed | 97 km/h |
B. Main Platform Parameters:
| | |
| --- | --- |
| Max. load of inspection platform | 600kg |
| Max. load for front end of inspection platform | 250kg |
| Operating range under the bridge(Total/Effective) | 23M/21M |
| Vertical Operating Range Under Bridge | 6.35M |
| Main steering arm across width | 2-3.8M |
| main steering arm across height | 3.5M |
| The maximum operating range for vertical platform | 7M |
| The first rotation angle | 0-90° |
| The second rotation angle | 0-180° |
| Counter Weight | Activities counter weight 3.5T, Fixed counter weight 5T |
| Activities counter stroke | 950mm |
| Rear axles with auto-stabilizer | Hydro-cylinder |
| Hydraulic system | The proportion of electro-hydraulic servo system |
| Control system | Manual / Cable / Wireless |
| Reserve Power | American Division Generators |
Related Products